Shinji Kagawa, Mario Gotze, Robert Lewandowski, Matt Hummels, Iker Gundogan and most recently Henrikh Mkhitaryan are some of the big names to leave the German giants in recent years; and each time, the Dortmund based club have managed to make shrewd transfers allowing them to compete each season for the Bundesliga title.
Here we have a look at their previous transfer windows, and see the important signings they made to stay competing at the highest level:
2012-2013 season
Players left : Shinji Kagawa  (to Manchester United)
Player in : Marco Reus  (from Borussia Monchengladbach)
Having just won the Bundesliga title, beating runners-up Bayern Munich by a solid eight points, the Dortmund fans would have been disappointed to see their midfield star leave the club having scored 12 league goals in 27 matches to claim them the league title. However, fans would have been delighted with his replacement, Marco Reus who has become a key player for the Dortmund team and who has went on to make 32 appearances and scored 14 goals in his first season in black and yellow as Dortmund came second in the league and reached the Champions League final. Reus certainly proved to be an effective replacement and went on to establish himself as a key member of the team.
2013-2014 season
Players left : Mario Gotze  (to Bayern Munich)
Players in : Henrikh Mkhitaryan  (from Borussia Monchengladbach),  Pierre-Emerick Aubameyang (from Saint-Etienne)
Even before the disappointment of being runners up in the Champions League final, losing to their Bavarian rivals Bayern Munich, the fans were already bitter to know that their youth academy graduate and startlet, Mario Gotze, had signed for Bayern Munich, after activating his 37 million euro release clause. This left fans feeling distasteful as they had lost an important attacking midfielder player who had contributed 16 goals in the previous season. However fans would have been pleased to see the signings contributing 29 goals in all competition between them as they won the DFL- Supercup and were runners up in the Bundesliga and DFB-Pokal. Aubameyang went on to become Dortmund's new front man after Robert Lewandowski's transfer to Bayern Munich and has gone on to score 55 league goals in 94 appearances and managed to score 39 goals in all competitions last season. Definitely an important transfer!
2014-2015 season
Players left : Robert Lewandowski  (to Bayern Munich)
Players in : Shinji Kagawa (from Manchester United)
The beginning of 2014-2015 season saw many fans hearts broken again, as their talismanic striker Robert Lewandowski left for Bayern Munich on a free transfer. The season overall was a disappointment as the team finished 7th in the Bundesliga, thus missing out on the all important Champions League spot. The team could take positives from seeing their former star midfielder Shinji Kagawa, winning the DFL-Supercup and being runners up in the DFB-Pokal, though the main positive of the season was the emergence of Pierre-Emerick Aubameyang as he flourished in the striker role for Dortmund. Scoring 25 goals in 46 appearances in all competitions was enough for him to feature in the Bundesliga team of the season as well as being Borussia Dortmund player of the season.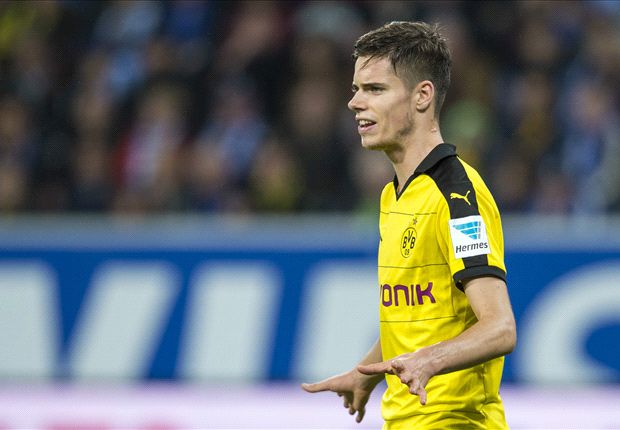 2015-2016 season
Players left : Ciro Immobile  (to Sevilla), Kevin Großkreutz  (to Galatasaray), Jakob Blaszczykowski (to Fiorentina)
Players in : Gonzalo Castro (from Bayer Leverkusen), Julian Weigl  (from 1860 Munich)
Manager out : Jurgen Klopp ( to Liverpool)
Manager in : Thomas Tuchel (from FSV Mainz 05)
Last season saw the departure of charismatic manager Jurgen Klopp from Dortmund and the arrival of Thomas Tuchel, who turned out to be the perfect replacement. Following the disappointing campaign in the 2014-2015 season, many fringe players such as Kevin Großkreutz and Jakob Blaszczykowski left the club, with the major signings of the 2015 summer transfer window being versatile midfielder Gonzalo Castro from Bayer Leverkusen and 20 year old Julian Weigl from 1860 Munich. The latter then became an integral part of the Dortmund midfield, making 51 appearances in all competition and showed maturity in the centre midfield role, averaging 82 passes per game with 93 % pass accuracy; doing all this at the tender age of 20 and costing Dortmund just 2.5 million Euros, helping the team back to the second spot in the Bundesliga, qualifying for the Champions League once again, thus showing Dortmund's transfer market ingenuity in not only buying key players but also replacing managers.
2016-2017 season
Players left : Iker Gundogan  (to Manchester City), Matt Hummels  (to Bayern Munich), Henrikh Mkhitaryan (to Manchester United)
Players in : Marc Bartra (from Fc Barcelona), Mario Gotze  (from Bayern Munich), Andre Schurrle (from Wolfsburg), Ousmane Dembele  (from Stade Rennais) 
This summer has seen Dortmund go into a transfer frenzy, with expenditures exceeding 100 million Euros to compensate for the departure of their key defender Matt Hummels to Bayern Munich and midfielders  Henrikh Mkhitaryan and Iker Gundogan to Manchester United and City respectively. Though fans will be hurt to see the loss of so many key players, they will be excited to see the new crop of attackers, as well as the return of startlet Mario Gotze, added to the current selection of talent such as Reus and Aubameyang. Already we have seen 19 year old Dembele impress in pre season friendlies, notably scoring a superb indiviudal goal against Manchester United, and the capabilities and talent of Mario Gotze and Andre Schurrle are already known. Marc Batra is also a good and reliable addition to the selection of defenders available, especially since the departure of Hummels. With these new array of exciting and talented signings (and also the ones still to happen), there is no doubt that Borussia Dortmund will be competing for the Bundesliga title again, as well as leaving their mark in the Champions League.
There is no doubt that Borussia Dortmund have shown their immense capacity to adapt to losses in key players each season and we look forward to seeing how they perform this season with their exciting new signings!
Contact @: [email protected]