Despite slipping up against Manchester United, Manchester City are set to stroll to their 3rd Premier League crown. I think it's fair to say that the whole team deserves credit for what has been a breath-taking season. However, some players have stood out and here are my picks for Manchester City's top five performers of the season:
5) Nicolas Otamendi
The Argentinian has this season shown just why Manchester City bought him from Valencia in the summer of 2015. Pep Guardiola has made him an ever-present in the heart of the Manchester City defence and has been repaid for the faith he's been shown. Otamendi has contributed to 13 of City's 15 clean sheets this season with his tough tackling nature coming to fruition now more than ever. But it's not just defensively where he's improved. Offensively he's been critical with his passing range improving rapidly, vital to the way Guardiola plays. He's popped up with important goals too, with none more vital than the Manchester derby in December where he snatched the winner from a Romelu Lukaku mistake.
4) Fernandinho
Maybe the Brazilian doesn't score or assist regularly but his importance to this City side cannot go unnoticed. He operates in the pocket just in front of the back four and just behind the two number 8's with his job simple, clean up. However, it's not quite as simple as that for Guardiola who expects him to break the defensive lines with cross field balls, which he seems to have mastered. Without him there and performing so well, you wonder if anyone could do his job as effectively as he does.
3) Raheem Sterling
Since Guardiola became Manchester City manager, Raheem Sterling has become a man unchained, showing just why City spent the big bucks to prize the youngster away from Liverpool. The Englishmen has notched an impressive 16 goals in the Premier League so far this season, putting him 4th in the top goal scorer rankings. Maybe his ball striking has not of improved dramatically, but his positioning to get onto the end of some of the fast-paced whipped balls in, has been equally as impressive. Guardiola has really turned Sterling from a shot of confidence winger, to one of the best in Europe.
2) David Silva
For some fans, this may be a surprise to not see the Spaniard top of the list, which I think is a testament to what a great season the whole squad has had. Silva has really had the whole of the Premier League on the top of his magical left foot this season. With his absence in some games really being felt, none more so then City's only league defeat so far this season at the hands of Liverpool, where his controlling presence in the middle was sorely missed. 19 goal contributions in the league this season doesn't really tell the full story of just how good he has been, and the man at number one must've been exceptional to deny Silva the top spot.
1) Kevin De Bruyne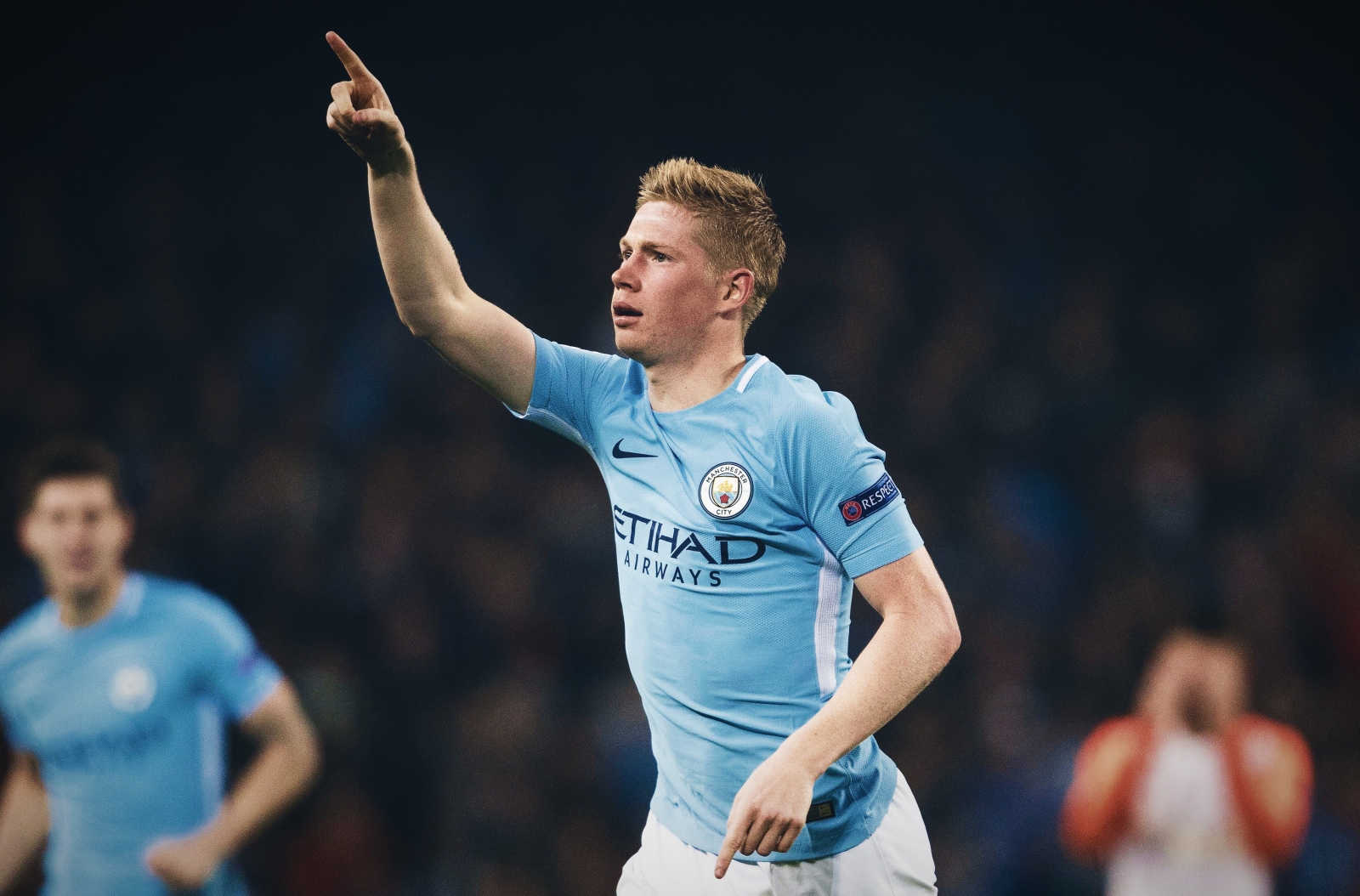 As I eluded to earlier, the man at number 1 must've been exceptional, and Kevin De Bruyne has been just that. I really am running out of superlatives to describe the Belgians sensational season. De Bruyne has operated a little deeper than you would expect a player of his calibre to be. But that hasn't hindered him,  contributing with 15 assists, the most in the whole league. Even when he's been forced a little wider than expected, he has equally enough ability to bend the ball around the helpless defence straight onto the gleeful boot of Sergio Aguero. He really has taken the league by storm this year and it looks like a two-horse between him and Mohammed Salah for the illustrious Player of the Year award and he'd be very unlucky to miss out.