Daniel Alves commonly referred to as Dani, has always been an eccentric, unconventional character. Just look up the video of him spread across an escalator, demonstrating his best impression of what looks to be a flying squirrel.
Oh yeah, it's also probably worth noting that this was filmed a matter of hours before he took to the field to win his third Champions League medal.
Who can forget his compelling stand against racism at El Madrigal? As he lined up to take a corner, one fan threw a banana at his feet. His response? He merely wolfed it down in one and didn't take his eyes off events in the penalty area for one second. After the game, he told reporters: "I have been in Spain 11 years, and it has been the same for 11 years. You have to laugh at these backward people." His physical and verbal response sparked unity across the football world, with various players and legends copying Alves' genius act.
It goes without saying; Alves is an enormous character in today's game. Never afraid to speak his mind, he will impulsively do what he believes in (even if it means taking penalty matters into his own hands – quite literally). In today's game, we need more people like him, people who aren't afraid to be controversial at times or just say the truth. The prime example of this was when asked about his supposedly suspect defending; he hit out saying: "Imagine what I would have achieved if I had been any good."
Oh, what could have been!
But I think 21 trophies in eight years at Barcelona, and being part of what was arguably the greatest club side of all time speaks for itself, to be quite honest. I reckon he would even tell you this himself.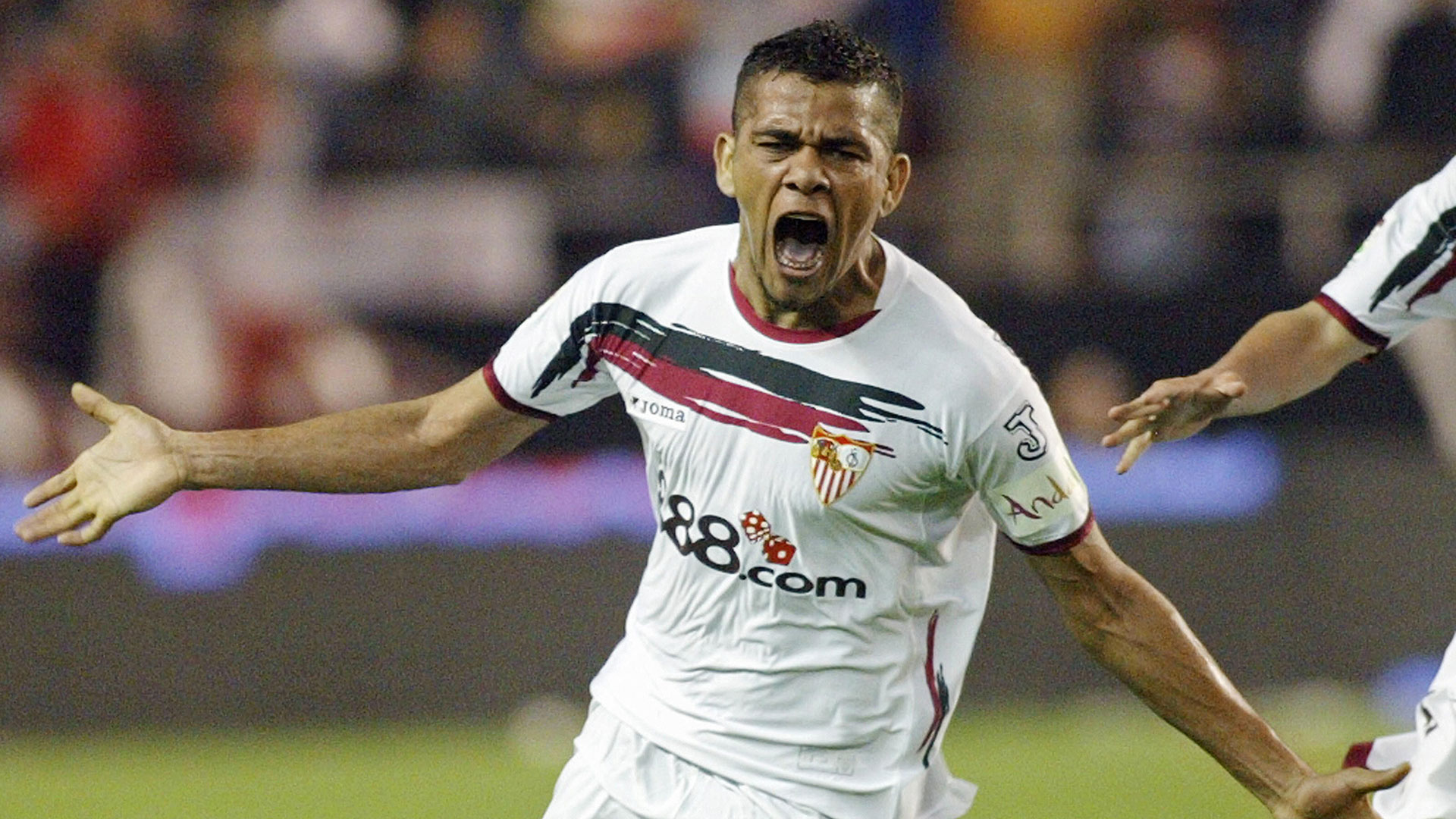 Alves' European career started in Sevilla, where he quickly earned a reputation as being a lethal attacking threat and became one of the most sought-after defenders in the world. He has previously spoken about how close he was to signing for Chelsea in 2007, and Liverpool a year earlier. Nevertheless, after a public spat with the president, and a barrage of Chelsea bids, Alves would stay at the Ramon Sanchez Pizjuan for another year, until Pep Guardiola recruited him to his Barcelona revolution.
The Barcelona years for Alves were to be unforgettable, and boy did he hit the ground running.
Arriving for £30m and leaving Andalusia in tears, he quickly became a mainstay in the right back position in Guardiola's new look eleven. His attacking instincts were invaluable down the right-hand side, being able to supplement the majestic midfield trio of Busquets-Xavi-Iniesta.
His first season saw him win the treble, a year which included a memorable 6-2 away win at the Bernabeu and also the Champions League Final success in Rome. However, the Champions League was a bittersweet experience for the Brazilian, as he was suspended for the final against Sir Alex Ferguson's Manchester United.
Two years later, however, he would obtain his redemption. He started the European Cup Final at Wembley, a rematch of the 2009 final vs Manchester United. Barcelona's 3-1 win gave them their fourth European Cup. Again, Barca won the league title at the same time, making it three in a row for the Blaugrana. This is the team which many describe to be the greatest of all time, the team many feel we will never see topeed.
Besides all of the trophies and the prolific success at this time, undoubtedly the most significant tribute to the Brazilian comes from former teammate Eric Abidal.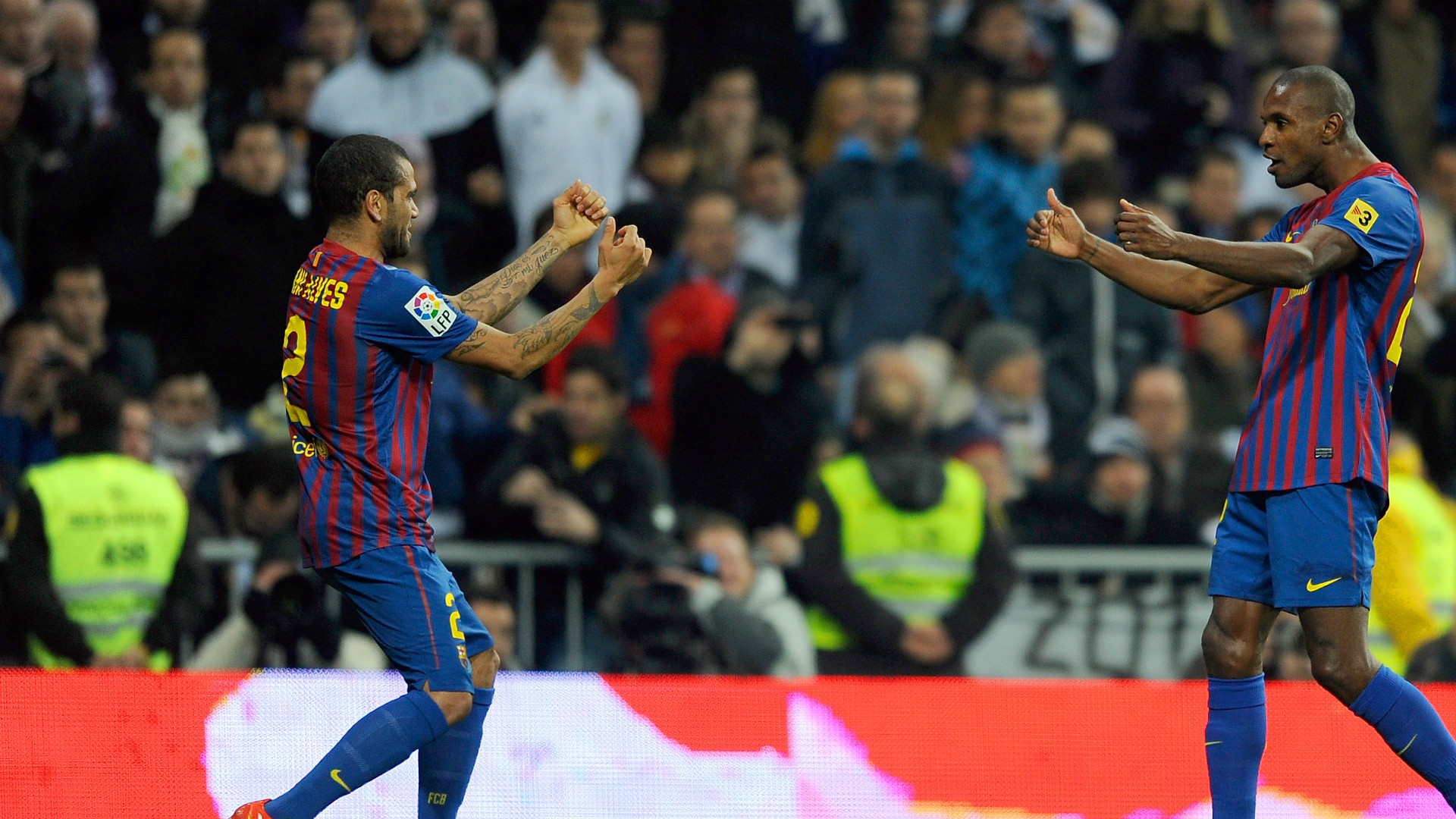 The full backs had an extremely close relationship together at Barcelona, and this friendship was something much more significant than football ever will be. Abidal has previously revealed how his friend offered him a part of his liver when undergoing surgery to treat his liver tumour.
Abidal goes on to speak extremely highly of Alves, saying "The story with Dani goes beyond the jersey. He knows it. Me too. We are friends, and we talk about everything. He wanted to support me."
The gesture in itself speaks incredible volumes of the man, who offered everything to his teammate, but more importantly, a close friend at such a difficult time. What's more is that after Abidal departed Barcelona to continue playing at Monaco in 2013, Alves took the Frenchman's number 22 as a tribute to him.
As the years rolled on and the trophies followed, the right-back was an ever-present. In his seven years at Barcelona, he made the FIFPro Team of the Year six times, only once being edged out by fellow Brazilian Maicon in 2010. For someone who many believe cannot defend, that's not a bad record at all.
Two more league titles in 2013 and 2015 were subsequently added to his collection. He won the league under the late Tito Vilanova in 2013, a trophy he dedicated to his manager and also to Abidal.
2015 would be another historic year for a man who was undoubtedly used to breaking records by now. Under Luis Enrique, Barcelona won it's second, and Alves' second treble. Spearheaded by the 'MSN' trident of Lionel Messi, Luis Suarez, and Neymar, Barcelona won La Liga at the Vicente Calderon. They also beat Bilbao in the Copa Del Rey thanks to a great goal by the magic Messi, and saw off a strong Juventus side in Berlin.
After an uncharacteristically quiet 2015-16 season, where only another La Liga title appeared in the cabinet along with the European Super Cup, Alves was permitted to leave Barcelona on a free, a year before his contract expired.
So after seven years, 21 Trophies, and six paragraphs of this article, his glorious years in Catalunya were over. And of course, he was a man in demand. I genuinely do not think even six paragraphs do justice to the man and his achievements during his time at the Camp Nou. Barcelona's struggles in 2016/17 only highlighted the importance of their charismatic fullback.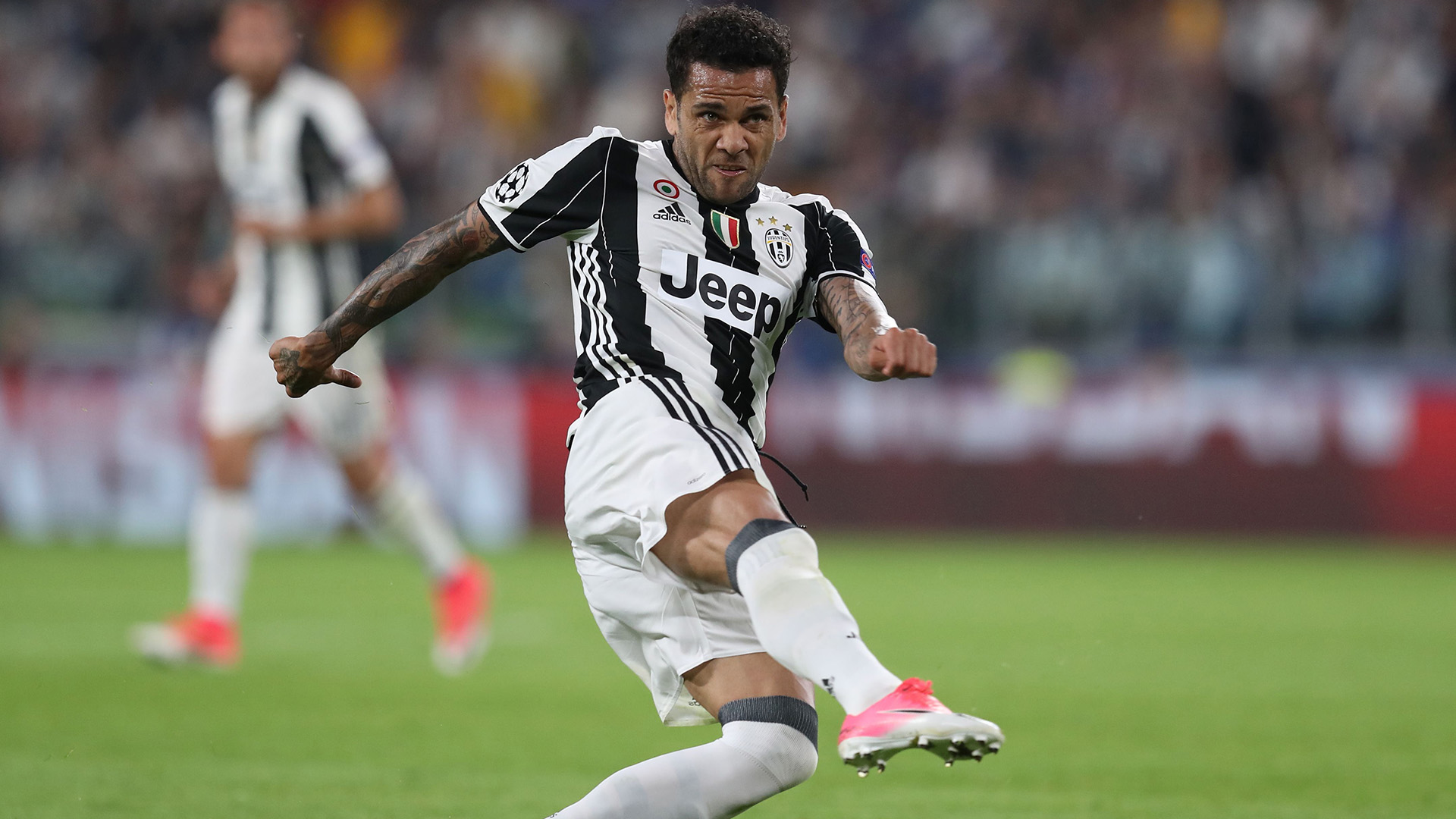 Juventus were swift in acquiring Alves in June 2016. Unfortunately he would only be in Turin for one year. He would consistently display his qualities despite suffering a leg break and would win Serie A.
He was a standout performer too as Juve reach an ultimately unsuccessful Champions League final, against Real Madrid. After it was announced he would be departing The Old Lady, the tug of war for this extraordinary athlete, an all-time great, even at 34 was on once again, and fiercer than ever.
For a 34 year old, he certainly wasn't doing too bad. Guardiola desperately wanted a reunion with the man with whom he had so much success with at Manchester City. Antonio Conte wanted him to be Chelsea's main wing back down the right-hand side, and even Chinese clubs were linked with a huge deal.
In the end, though, PSG snatched him away from the clutches of Guardiola, when it was almost inevitable he was headed to the Etihad. Alves was to link up once again with Neymar, and add to an already strong Brazilian contingent at the Parc Des Princes.
And that almost brings us up to the present. Alves has been magnificent for PSG, rotating with Belgian international, Thomas Meunier. He has shone in the big games, particularly in the Champions League where he shows just how invaluable he will be to this relatively inexperienced side looking to conquer France and primarily: Europe.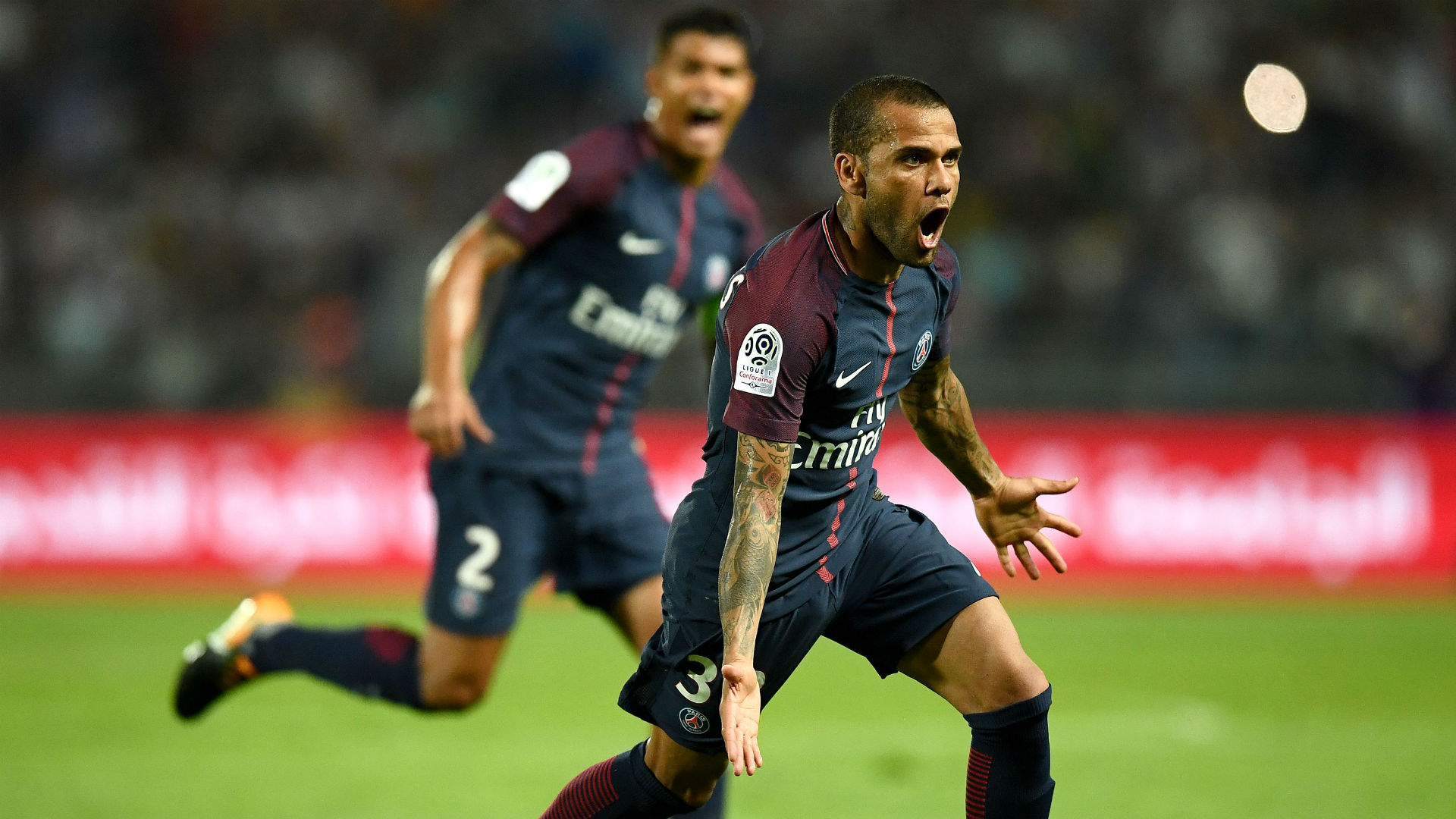 In the meantime, he is forming a key defensive axis at the club and international level with Marquinhos and Thiago Silva, in what is seemingly going to be three of Tite's first-choice back four going into Russia 2018. Strangely enough, the international stage is something he is yet to put his stamp on significantly, but Brazil look ominous heading into next summers tournament, and he will almost be a cert to play his part for the Selecao.
There will be tough tests ahead for both Paris Saint-Germain and the Brazil national team between now and the end of the season. But with a character like Dani Alves, a man of passion, charisma, humanity, tenacity, determination, irregularity, and of course success, you would be silly to count them out.
After all, this is one of the most successful players we will ever know looking to add to his seemingly infinite trophy cabinet